There is big confusion regarding Visual Composer and WPBakery as many think it is the same product. In this Visual Composer vs WPBakery post I will try to explain you differences between those two and compare their features and options.
Ten years ago, content builders were small tools with not much impact on the market. They were built to simplify the page editing process for WordPress users. This used to be a small industry, and now it has exploded into a very profitable niche.
Today there are many site builders. While each WordPress site builder performs the same necessary objectives, the features and operating approach are unique to each builder.
This is indicative of the many changes the market has undergone. For example, the WPBakery Page Builder used to be called Visual Composer page builder and is one of the original page builders for WordPress.
NOTE: I have also compared WPBakery vs Elementor, and Visual Composer vs Elementor, so check thoose comparisons if you are interested to see differences and similarities.
Table of Contents
Different Products Same (Different) Name
WPBakery Page Builder has been one of the most used plugins for page building on WordPress since it was made available. Currently, it is available on the CodeCanyon marketplace and has over 300,000 direct sales.
The Visual Composer trademark has since been used for an entirely different project: a full-fledged website builder – Visual Composer Website Builder.
While CodeCanyon still sells the original WPBakery Page Builder, the Visual Composer Website Builder is a separate plugin and sold on its official website.
SHORT SUMMARY: Visual Composer Website Builder and WPBakery Page Builder are both independent products. They can't be replaced merely one by another. For more details see WPBakery review and Visual Composer review.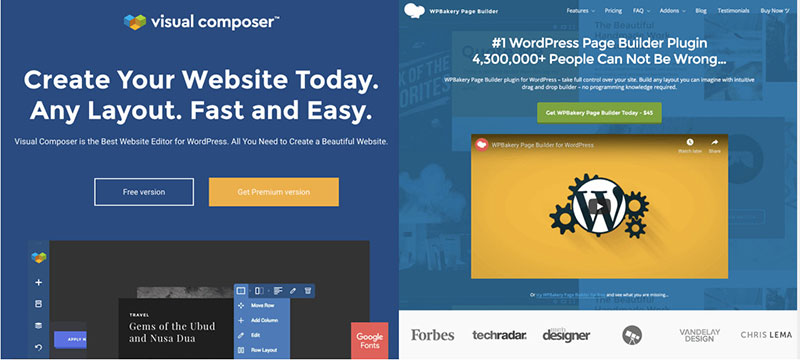 Both (Visual Composer and WPBakery) are still available for sale because they are separate products, that have different (and similar) functions. You cannot swap out one for the other and have everything run just as smoothly as before.
WPBakery Page Builder is mainly used for the content of your website, while Visual Composer is used to build up a full website (which also includes the headers and footers on each page).
So why was one of the WordPress most popular plugins renamed? Why do the owners of WPBakery want to sell Visual Composer as a separate product? What is the difference between Visual Composer and WPBakery? Continue reading to find the answers to these questions.
WPBakery Page Builder vs. Visual Composer Website Builder
In very simple terms, WPBakery is a page builder while Visual Composer is a website builder. WPBakery works flawlessly with any theme that you choose, contains a frontend and backend editors, and allows easy use of its drag and drop builder to help you build your WordPress pages.
It costs $49 for a regular license. On the other hand, the Visual Composer allows several options to customize your sidebar, headers and footers, and your mobile editing options.
It also gives you access to several page layouts. It costs $59 for a regular license.
Both share the same feature (drag and drop) that lets you simply click on the element you want to use and drag it to where you want it to be on your page and "drop." Although similar, these two builders are entirely different.
Why Was Original Visual Composer Rebranded to WPBakery Page Builder?
The Visual Composer Website Builder was a new product that shared a name with the Visual Composer Page Builder (same developers). While they contain some of the same words in their titles, they are two separate products with two separate intended uses.
And as with every Envato product, the Page Builder is exclusive to them, with a lifetime use license because it is sold on Envato and it is tied by contract (see how to update products on Envato without license).
However, the Website Builder has never had a lifetime license use attached to it. It was intended to have intricate and involved functions, for users whose website building needs have expanded beyond the basics.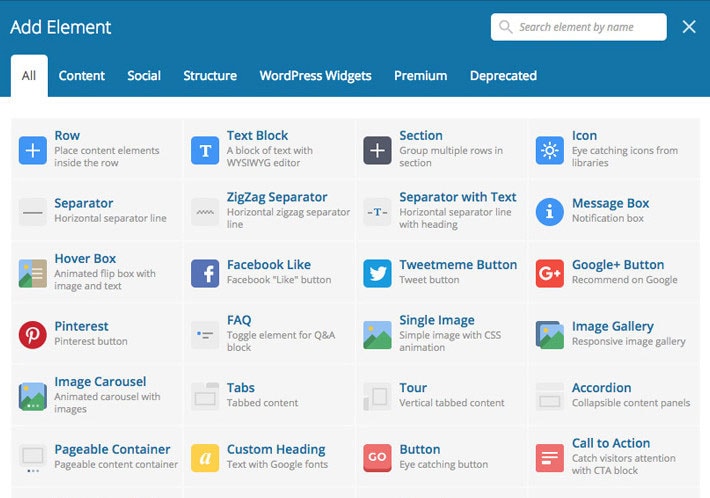 To develop these functions, the costs had to be increased, and so it only made sense to have a yearly license, instead of a lifetime license. Developers also wanted to be able to contact Website Builder users directly, to provide the best, personalized service.
However, they overlooked an important detail in contract with the Envato marketplace. In the contract, they had promised not to sell another product outside of Envato that contained the name "Visual Composer" anywhere.
Realizing that, they had two options. Either strip features of their new product (Website Builder) to make it fit the lifetime license model and put it up on the marketplace (Envato).
Or they could change the name of their Page Builder (in that time called Visual Composer page builder), the one they were already selling on the platform to lift the contractual limitations.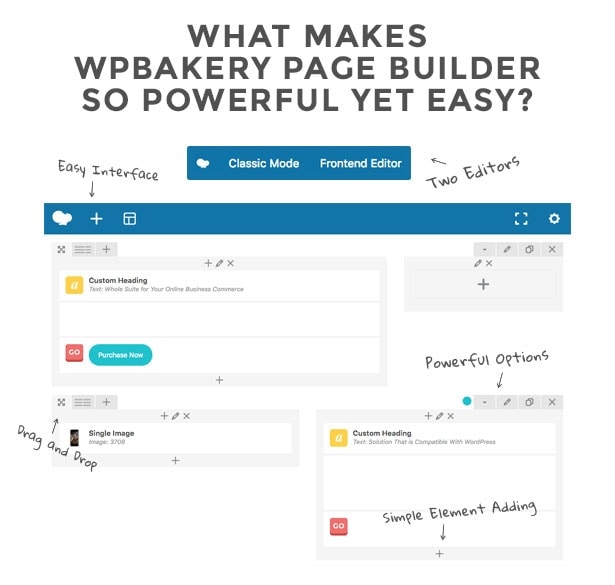 WPBakery Editor
Each choice had positives and negatives. Eventually, developers decided to change the name of the Visual Composer Page Builder, instead of compromising on the features of their new product.
This caused huge amounts of confusion from customers. Customers were not only confused about the name change but also about the new and existing product.
Was the new product rebrand of the same product they are already offering or was it a brand new product? What is the deal with WPBakery Page Builder? Was this just an update (a 2.0)? Or was this a brand new plugin altogether?
Are Visual Composer Website Builder and WPBakery Page Builder The Same Thing?
No. These are two entirely different plugins. Some people believe that the Visual Composer Website Builder is a premium version of the WPBakery. It is not. WPBakery is paid plugin also.
The code for the Visual Composer Website Builder was built from zero using React.Js. It does not use any of the WordPress shortcodes. Its main design inspirations come from the feedback received from customers.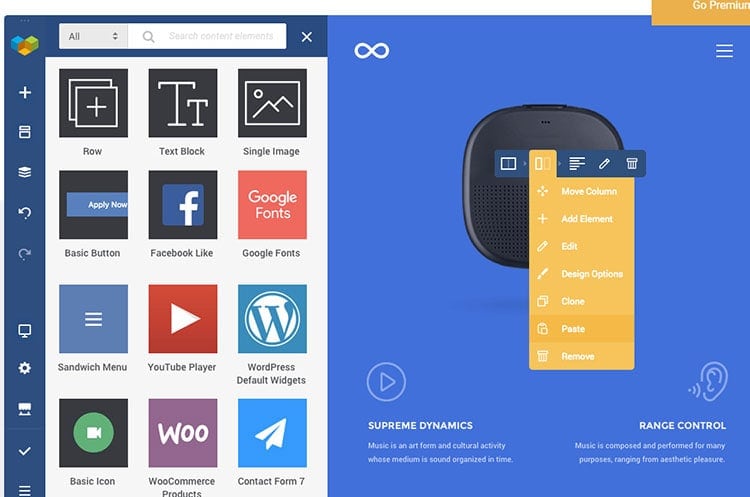 Visual Composer Website Builder Interface
The main difference between the two plugins is that WPBakery is only used for content, while the Visual Composer Website Builder allows you to assemble a full website, including headers and footers.
Also, the WPBakery is entirely based on shortcodes, while the Visual Composer is not. This means that the Visual Composer Website Builder produces clean code and will not get messed up when you disable the plugin.
Visual Composer Website Builder also comes with a cloud-based Hub that allows you to download all of the elements you want, so your website does not become overcrowded with a preset amount of elements already loaded.
They are for different purposes, and each is equally useful to customers. WP Bakery is still getting the same amount of work and attention as it did before the development of VC Website Builder.
What Is Visual Composer Website Builder?
Visual Composer Website Builder is not the same as the formerly known Visual Composer Page Builder (now WPBakery page builder). The Website Builder not only has drag and drop features but also a live preview editor.
It is an entirely new tool made from scratch. It comes in the free and premium version. It also contains hundreds of easy, ready to use elements that can help you create your heart's desire. Because of the drag and drop feature, customers can see the changes they have made instantly.
Visual Composer Website Builder Editor
It can also be used in conjunction with any theme, even your existing theme. You can choose from a variety of WP templates for different types of pages like landing pages, portfolios, corporate websites, product pages, etc.
You can edit your page in two separate ways. Tree view and frontend editor. With the tree view, you can navigate through the elements available on the page which will save you a lot of time during the process.
One big perk of the Visual Composer Website Builder is the fact that there is a header, footer, and sidebar editor available in the Premium version of the product.
In addition to that, you can access numerous useful add-ons that you can get from the third-party developers or the Visual Composer's dedicated Hub.
Choose free if you need most essential features but if you need to create headers, footers, sidebars and want to have all that Visual Composer Builder offers, then go for its premium (paid) version.
WPBakery Page Builder Overview
This Builder has been around for many years, and as such it has many loyal customers. It is one of the most used plugins and usually bundled in a ThemeForest themes. Unfortunately, there are some issues that need to be fixed before the WPBakery Builder can compete with most modern WordPress builders.
This is because it is shortcode based. This means if you disable the plugin, then you will be left with tons of shortcodes.
Non-technical users may not care how it works behind the scenes, but they will care about the amount of work removing WPBakery Page Builder if that ever becomes necessary. Additionally, shortcodes are not the newest technology around with the use of clean HTML being on the rise.
Visual Composer Website Builder Overview
Visual Composer Website Builder is not just a simple builder. It is a theme builder that lets you build an entire website right from the frontend editor. This means that you can use it not only for content editing but also overall site design.
With its custom Page Layouts, along with Header, Footer and Sidebar editors, it lets you customize any WordPress theme you like and create your unique page layouts.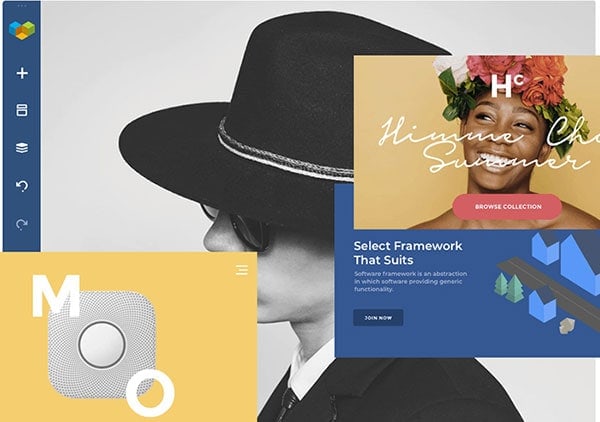 One of the biggest additions to the Visual Composer Website Builder is its online marketplace, allowing for easy download of pre-made content elements, templates, and add-ons.
This online library is called Visual Composer Hub. It lets you receive constant updates and have instant access to download any new content that is on the way.
Because the Visual Composer Builder is based on the latest technologies that are available, it guarantees excellent performance and security. This is also a React based product.
Visual Composer vs WPBakery Plans & Pricing
WPBakery Page Builder has two licensing options. A $45 single site license (one-time payment) and a $245 extended license for Saas applications.
The Visual Composer Website Builder has four licensing options. A free version, $59 single site premium license for unlimited access to all of its elements and customer support, a $149 for three websites license and developers license (for unlimited usage) for $349. The Visual Composer Website Builder is a bit more expensive, but it is ultimately worth it.
Visual Composer Website Builder Pricing Plans
The addons are always available, no matter when you might need them while most of the WPBakery addons are for sale by third parties. So for each little feature, the cost could be around $20 – $50 per site. One of most popular addons for WPBakery are Composium (check Composium review) and Ultimate WPBakery Addons plugin.
In the end, Visual Composer Website Builder will cost you less, and so far it seems to be much better. The license is valid for a year, but the price seems to be reasonable as the plugin delivers more and more new features, elements and templates.
Visual Composer vs WPBakery Summary
WPBakery gives you a lot of options for your features which can be overwhelming if you do not know how to use them. The page builder is bundled in many WordPress themes, so theme users might get it by default.
It is a fine builder for creating pages for your WordPress site. However, the shortcodes can slow it down a bit. The good news is that technology is always evolving, always improving as customers make their needs known.
Visual Composer seems to be following this need, and now it can be used by both newcomers and professionals. It contains over 100 features, updates regularly, has instant user support, and a supportive online community with video tutorials.
They offer a free version, which is enough to give you a great first impression and even build a simple site. And it's not only for beginners and web developers. It recently has launched an API that gives new business opportunities for WordPress plugin and theme developers. But if you want simple and quicker way to build landing pages in WordPress, then WPOnepager is better choice for your needs.
If neither WPBakery nor Visual Composer are what you need, then consider using Elementor, Divi, Brizy, Oxygen, or Beaver Builder page builder. For more info regarding those page builders check Elementor free vs pro, Beaver Builder free vs pro, and Divi vs Beaver Builder.
Sources: https://www.kasareviews.com/visual-composer-vs-wpbakery-comparison/