Presentasi merupakan langkah awal dalam mempengaruhi client untuk bisa menerima ide-ide kita, supaya terlihat profesional dan tidak terkesan asal ada atau asal-asalan, maka sebaiknya first impression tersebut kita buat sebaik mungkin.
Biasanya presentasi chart itu disajikan dalam kondisi normal, langsung keluar grafik seutuhnya, dan penerjemahan arti grafik tersebut dibawakan secara verbal oleh pembicara. Hal tersebut besar kemungkinan ada miss key point yang diharapkan untuk menjadi fokus audience, tips yang paling jitu yaitu membuat sajian grafik untuk bisa menjadi perhatian. Caranya yaitu dengan mengoptimalkan fitur animasi di Microsoft PowerPoint 2007, sangat banyak yang dapat kita manfaatkan, contohnya; membuat data series terlihat terbang satu dengan yang lainnya, membuat kategori memudar pada suatu waktu. Intinya kita bisa membuat poin yang menjadi perhatian untuk terlihat lebih menonjol.
Langkah sederhananya yaitu sebagai berikut:
Buka file PowerPoint (yang telah dibuat sebelumnya, dan mengandung slide grafik asli, bukan gambar jpeg)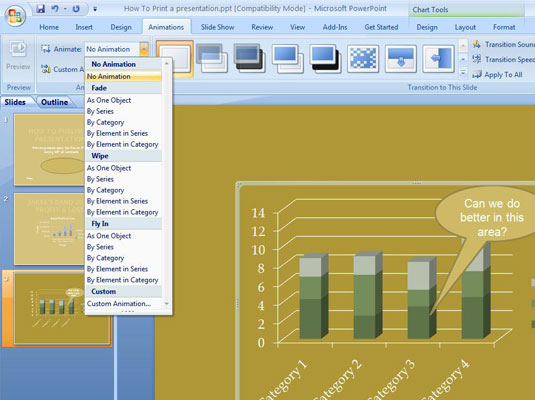 Di dalam Tab Animation terdapat 3 kelompok untuk mengontrol animasi, yaitu; Preview, Animations, and Transition to This Slide.
Buka Dropdown Animated List
Langsung Klik Custom Animation. Akan segera tampil beberapa pilihan, untuk cara tampil, efek keluar, cara bergerak, dan lainnya (various entrance, emphasis, and exit effects and create motion path).
Pilih Animasi Untuk Chart
Jika diperlukan, anda bisa membuat lebih dari satu animasi untuk setiap objek grafik yang anda miliki. Sebagai contoh kita dapat membuat suatu objek menggunakan efek masuk terbang pada saat dia akan ditampilkan, kemudian diberi tambahan warna berubah pada saat ditampilkan, dan efek spiral keluar pada saat objek akan meninggalkan halaman presentasi.
Untuk menghilangkan animasi dalam sebuah grafik, caranya sangat mudah, anda tinggal klik grafiknya secara keseluruhan, atau pada halaman grafik bersangkutan, kemudian masuk ke menu tools Animate (Dropdown list), lalu pilih No Animation.
Tulisan ini disadur dari : www.dummies.com Semoga bermanfaat tulisan mengenai "Membuat Animasi Untuk Chart di PowerPoint 2007" ini.