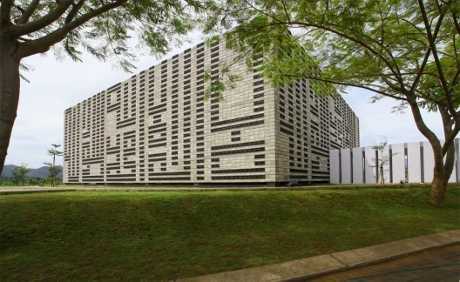 Anda tak akan menemukan kubah atau menara yang menjulang tinggi di bangunan masjid Al Irsyad yang terletak di Kota Baru Parahyangan, Padalarang, Bandung, Jawa Barat. Jika Anda berkunjung ke sana, yang akan Anda temui adalah bangunan kubus dengan dua kalimat syahadat raksasa dari susunan batu bata yang berlubang di dinding bangunan tersebut.
Susunan batu bata ini juga menjadi sumber cahaya bagi gedung ini pada siang hari. Sementara pada malam hari, sinar lampu dari dalam gedung akan menembus lewat lubang-lubang batu bata tersebut, sehingga kalimat syahadat pun akan tampak bersinar.
Dengan luas bangunan 1.696 meter persegi, dan selasar 807 meter persegi, masjid ini mampu menampung 1.500 jamaah. Ketika memasuki bangunan ini, Anda akan disambut bentangan karpet merah. Tak berhenti sampai di situ, arahkan pandangan Anda ke atas dan temukan 99 lampu yang cahayanya membetuk siluet nama-nama suci Allah SWT. Subhanallah!
Selanjutnya yang paling menakjubkan adalah mihrabnya yang tak berdinding dan menjorok ke sebuah kolam yang syahdu, sehingga pandangan pun akan bebas menyatu dengan alam. Pemandangan pegunungan yang sangat indah di hadapan para jamaah menjadi lukisan kebesaran Allah yang melengkapi khusyuknya salat. Jika sore hampir habis, pemandangan sunset pun akan menyapa Anda dari sisi mihrab.
Bangunan menakjubkan ini didesain oleh arsitektur kenamaan Indonesia, Ridwan Kamil. Bentuk kubus dari masjid ini terinspirasi dari bentuk kubus di Makah. Kubus dinilai sebagai simbol kesederhanaan dan kerendahan hati. Sementara kubah di masjid dipandang sebagai identitas budaya dan tradisi.
Tak ada lagi yang meragukan keindahan dari masjid Al Irsyad ini. Pada tahun 2010, masjid ini mendapatkan penghargaan dari National Frame Building Association sebagai salah satu "Building of The Year 2010" untuk kategori arsitektur religius. Tidak hanya itu, Masjid Al Irsyad juga meraih penghargaan FutureArc Green Leadership Award 2011 oleh Building Construction Information Asia.
Sang arsitek rupanya telah sukses membawa idenya secara indah dan lengkap, mulai dari konsep bangunan yang mendobrak tradisi hingga filosofi yang terkandung di setiap unsur dalam masjid ini.
Masjid Al Irsyad Bergaya Kubus Futuristik Simbol Kesederhanaan
Sumber : http://url.stisitelkom.ac.id/45236